Emergency Rental Assistance Program (ERAP)
Are you a tenant behind on your rent due to the COVID-19 pandemic? Are you a property owner with tenants who have unpaid rent due to the COVID-19 pandemic? We are here to help!
NYDIS is a contracted provider of the New York State Emergency Rental Assistance Program (ERAP). This program provides significant economic relief to help low and moderate-income households at risk of experiencing homelessness or housing instability by providing rental arrears, temporary rental assistance, and utility arrears assistance.
For more information, visit the OTDA website here. If you need help with the application process you can contact one of the organizations listed below for your borough:
Bronx: BronxWorks 718-508-3107
Brooklyn: Metropolitan Council on Jewish Poverty 929-292-9480
Manhattan: Catholic Charity Community Services 888-744-7900
Queens: Catholic Charity of Neighbourhood Services 718-880-3286
Staten Island: Project Hospitality 929-724-5360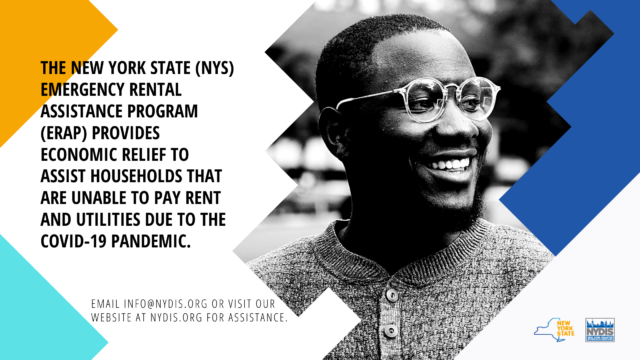 Benefits & Eligibility Criteria
Households approved for ERAP may receive:
Up to 12 months of rental arrears payments for rents accrued on or after March 13, 2020.
Up to 3 months of additional rental assistance if the household is expected to spend 30 percent or more of their gross monthly income to pay for rent.
Up to 12 months of electric or gas utility arrears payments for arrears that have accrued on or after March 13, 2020. (A household must be eligible for rental arrears payments in order to apply for utility arrears payments as well. A household cannot only apply for utility arrears).
Payments will be made directly to the landlord/property owner and utility company on behalf of the tenant. Property owners may initiate an ERAP application on behalf of tenants who are otherwise eligible for ERAP. Tenant applicants will be notified of the amounts paid on their behalf.
New York residents may be eligible for ERAP if they meet all of the following criteria:
They fell behind in rent since the COVID-19 pandemic began on or after March 13, 2020; AND
They qualified for unemployment benefits OR have lost income and/or have an increase in expenses due to the COVID-19 pandemic; AND
They have a monthly gross (before tax) household income below 80% of Area Median Income (AMI) or $85,950 for a family of three.
A household may qualify based on current income or calendar year 2020 income that is at or below 80 percent AMI.
Households eligible for rental arrears may also be eligible for help paying utility arrears at the same rental unit.
During the first 30 days of the program, New York State is prioritizing households with income at or below 50% AMI or $43,700 for a family of three AND at least one household member within the following categories:
Currently unemployed for at least 90 days;

Veteran;

Experiencing domestic violence or is a survivor of human trafficking;

Has an eviction case related to their current residence pending in court;

Lives in a community that was disproportionately impacted by COVID-19;

Lives in a dwelling of 20 or fewer units; or

Lives in a mobile home.
After the first 30 days, applications for all eligible households will be reviewed on a first-come, first-served basis. Funds are limited so all eligible households should apply as soon as possible regardless of whether they are in a priority group.
ERAP document check-lists for tenants and landlords
Download our infographic for convenient access and sharing in 5 different languages
Some Frequently Asked Questions (FAQs)