Search our resources
In 2008 NYDIS partnered with NDIN to develop one central online resource library for this nation's disaster interfaiths. NYDIS posts all our resources to this common source.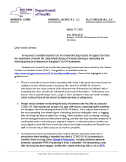 NYSDOH - COVID-19 Funeral Guidance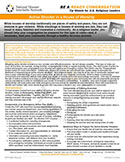 NDIN Tip Sheet: Active Shooter in a House of Worship
While shootings in houses of worship are rare, they can result in many fatalities and traumatize a community. As a religious leader, you should help your congregation be prepared for this type of crisis—and, if necessary, lead your community through a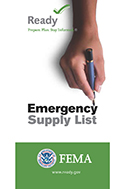 All Americans should have some basic supplies on hand in order to survive for at least three days if an emergency occurs. Following is a listing of some basic items that every emergency supply kit should include. However, it is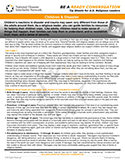 NDIN Tip Sheet: Children & Disaster
As a religious leader, you can guide families to resources for helping their children cope. Like adults, children need to make sense of things that happen; their families can help them to understand, and to reestablish trust, hope,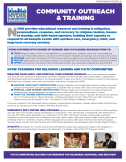 NYDIS Community Outreach & Training Brochure
NYDIS provides educational resources and training in mitigation, preparedness, response, and recovery to relgious leaders, houses of worship, and faith-based agencies, building their capacity to respond to all-hazards events with spiritual care, emergency relief, and long-term recovery services.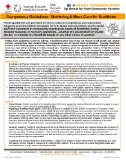 NDIN Tip Sheet: Competency Guidelines: Sheltering & Mass Care for Buddhists
These guidelines are provided to inform cultural competency and reasonable religious accommodation mandates for U.S. Mass Care providers, and to assist staff and volunteers in competently meeting the needs of Buddhists during disaster response or recovery operations—whether at a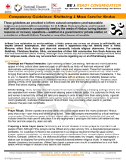 NDIN Tip Sheet: Competency Guidelines: Sheltering & Mass Care for Hindus
These guidelines are provided to inform cultural competency and reasonable religious accommodation mandates for U.S. Mass Care providers, and to assist staff and volunteers in competently meeting the needs of Hindus during disaster response or recovery operations—whether at a government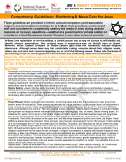 NDIN Tip Sheet: Competency Guidelines: Sheltering & Mass Care for Jews
These guidelines are provided to inform cultural competency and reasonable religious accommodation mandates for U.S. Mass Care providers, and to assist staff and volunteers in competently meeting the needs of Jews during disaster response or recovery operations—whether at a government
NDIN Tip Sheet: Competency Guidelines: Sheltering & Mass Care for Muslims
These guidelines are provided to inform cultural competency and reasonable religious accommodation mandates for U.S. Mass Care providers, and to assist staff and volunteers in competently meeting the needs of Muslims during disaster response or recovery operations—whether at a government