2-hour emergency communications training for congregations and faith-based organizations
NYDIS offers a free 2-hour Continuity of Operations Plan (COOP) training for clergy, staff & volunteers from congregations & faith-based org
NYDIS and The Salvation Army collaborate to offer this one-day, IN PERSON, Mental Health First Aid (MHFA) training for
Stories
September 2, 2021
For the 20th anniversary of 9/11, NYC faith leaders are joining hands and prayers while walking together in commemorating unity and peace building.
On Thursday, September 9th, we will walk to 5 houses of worship in Midtown East. We will begin our interfaith peace walk at St. Patrick's Cathedral then we will walk over to Central Synagogue. From there, we will walk to The Islamic Society of Mid-Manhattan and then walk over to a Hope Church Midtown. Finally, we will end our walk at the Manhattan Sikh Center.
We will stop briefly at each of the houses of worship for prayers, welcomes and short speeches from faith leaders and more. Join us in this walk of solidarity against injustice, hate and discrimination.
Our event will begin at 5pm outside of St. Patrick's Cathedral. Please meet us there.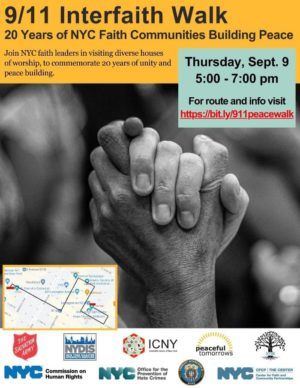 September 1, 2021
An opportunity to reflect on the impacts of September 11th, 2001 with a streaming of the official Reading of the Names from the World Trade Center Memorial at Ground Zero. Support offered by chaplains and emotional and spiritual care providers. Opportunity to participate in health and wellness activities and artistic and creative outlets guided by art therapists.
This event will follow all CDC recommendations and guidelines set forth by New York State and New York City. Proof of vaccination will be required for entry. Physical vaccine cards, the NY COVID Safe app, and the Excelsior Pass app will all be accepted with matching photo ID.
The event will take place on September 11th from 8AM-1PM at The Salvation Army. Victim families, responders, volunteers, impacted residents and other providers and supporters are all welcome.
Location: Centennial Memorial Temple, 120 West 14th Street, New York, NY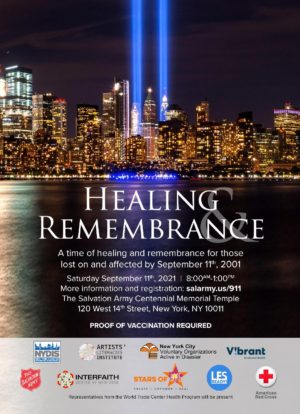 October 27, 2020
New York, October 27, 2020: In the midst of the COVID-19 pandemic and unprecedented hurricane and wildfire seasons, a new app will help first responders, disaster response professionals and voluntary organizations better serve America's diverse religious communities and build partnerships with religious leaders.
The Disasters & Religions App presents easily accessible religious literacy and competency information on 27 unique religions, from Baha'i to Zoroastrianism, including 12 Christian denominations.
"Three quarters of U.S. residents are people of faith. Yet, as a country, we often struggle to understand the unique religious beliefs, practices and day-to-day needs of each person," said Peter B. Gudaitis, M.Div., Executive Director & CEO of New York Disaster Interfaith Services (NYDIS) and President of the National Disaster Interfaiths Network (NDIN). "In times of crisis, this app will equip responders with resources to feed, shelter, counsel, bury or provide emotional and spiritual care to the diversity of people of faith, among many other unmet needs, during disasters and public health emergencies that face our country."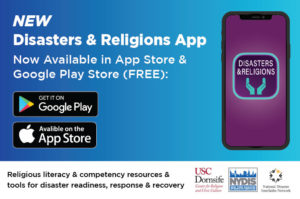 Member Spotlight
ICNA Relief USA