9/11 Interfaith Peace Walk: 20 Years Of NYC Faith Communities Building Peace
Join NYC faith leaders on September 09, 2021 from 5pm-7pm in visiting diverse houses of worship, to commemorate 20 years of unity and peace building.
About this event
For the 20th anniversary of 9/11, NYC faith leaders are joining hands and prayers while walking together in commemorating unity and peace building.
On Thursday, September 9th, we will walk to 5 houses of worship in Midtown East. We will begin our interfaith peace walk at St. Patrick's Cathedral, then we will walk over to Central Synagogue. From there, we will walk to The Islamic Society of Mid-Manhattan and then walk over to a Hope Church Midtown. Finally, we will end our walk at the Manhattan Sikh Center. See map below for walking route.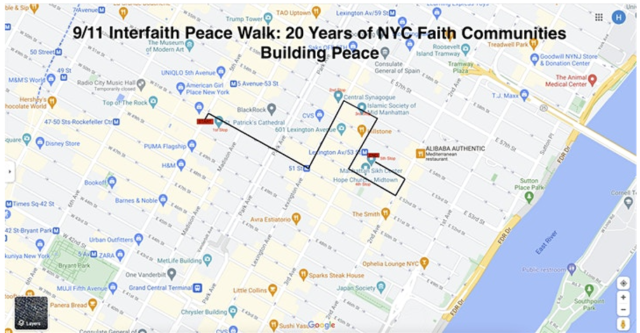 We will stop briefly at each of the houses of worship for prayers, welcomes and short speeches from faith leaders and more. Join us in this walk of solidarity against injustice, hate and discrimination.
Our event will begin at 5pm outside of St. Patrick's Cathedral. Please meet us there.
We ask that everyone please wear a mask to ensure all of our safety. We will have masks available.
If you would like to volunteer, please contact Hanadi Doleh at hanadi@interfaithcenter.org
Click here to Register for the event
This event is cosponsored by:
The Interfaith Center of New York
9/11 Families for Peaceful Tomorrows
New York Disaster Interfaith Services
New York City Commission on Human Rights
New York City Center for Faith and Community Partnerships
New York City Office for the Prevention of Hate Crimes