COVID-19 Pandemic Preparedness
New York Disaster Interfaith Services

Pandemic Preparedness Toolkit for NYC Faith Communities

NYDIS' new Pandemic Preparedness Toolkit & Planning Guide equips congregations to write a pandemic preparedness plan for lay and ordained religious leaders to use when planning and practicing how their congregations can serve congregants, staff, clients, and neighborhoods during pandemics – such as COVID-19. This toolkit is adapted from DOHMH's "Pandemic Community Preparedness Toolkit" with support from the NYC Department of Health and Mental Hygiene and the Fund for Public Health of New York.

HOWReady – House of Worship Ready Tip Sheets for NYC Religious Leaders
NYDIS' Social Media: The fastest source for updates on COVID-19 is on NYDIS' Facebook or Twitter.
NYC HOWalert (NYC House of Worship Alert) system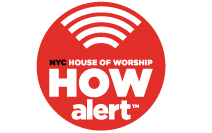 HOWalert is a free emergency notification system for NYC clergy/religious leaders and communications "decision-makers" from NYC congregations, religious bodies/networks and nonprofits. It will notify subscribers about life-threatening incidents or other hazards that may affect faith sector facilities. It also notifies subscribers with information that should be urgently shared with their congregants, clients, or staff. Communication can be two-way – by sending messages with live links to surveys that collect emerging needs or allowing religious leaders to request help during an unfolding public health emergency or disaster.
Register Here: www.nydis.org/howalert
Islamic Leadership Council of New York created a way to get regular updates for the Muslim community: Text CV19 to 56525
Muslim Community Network has launched a COVID-19 Response Hotline for those in need of assistance or have questions: Call (888) 409-0036
NYDIS
COOP & Emergency Communications Recommendations:  
Your plans should include provisions for your personnel to work remotely, including creating systems for computers,  office equipment, and other technology necessary to have remote access. Consider plans to conduct remote or live-streamed worship services and alternatives to congregation rituals in the event that mass gatherings become inadvisable. Review and practice your Continuity of Operations Plans (COOP) and Crisis and Emergency Risk Communication (CERC) Plans in the context of a pandemic. Advise your staff, personnel, and congregants to review their family emergency plans.
NYDIS Tip Sheets (Uploaded: November 2020)

NYDIS Pandemic Preparedness Toolkit For NYC Faith Communities (Uploaded December 2020)
Office of the Mayor of New York City
New York Police Department
Cybersecurity and Infrastructure Security Agency (CISA)
NYDIS | Thrive NYC | Interfaith Center of NY
NYDIS' Faith-Based Trainings
NYDIS provides free, weekly training for congregation decision-makers. Click here to register and learn more about our current training sessions:
Pandemic Toolkit & Vaccine Updates Webinars for NYC Religious Leaders
1.5 hours – A series of webinars which will present NYDIS' new Pandemic Preparedness Toolkit, which guides congregations on how to write a preparedness plan during the COVID-19 pandemic. The webinar will highlight key resources and planning tools, as well as COVID-19 vaccine updates.

Public Health Emergency Plan Writing COOP for Congregations
2.5 hours – COOP and CERC writing workshop for congregation decision-makers tasked with writing emergency plans.
COVID-19 Pandemic: Crisis Spiritual Care for Congregations
2 hours – An overview of crisis spiritual care best practices – including, general crisis spiritual care principles and interventions, disaster mental health & caregiver self-care.
NYC Pandemic Virtual Exercise: Testing Your Plans
2 hours – Organizations can discuss, troubleshoot, and find solutions for the unique obstacles facing congregations and organizations during a pandemic.
To view recordings of past webinars, please visit NYDIS' YouTube page.
NYC Human Resources Administration (HRA): Provides financial assistance to individuals in need of assistance to meet funeral expenses. Low-income New York City residents may be eligible for up to $1,700 in financial assistance to meet funeral expenses for a deceased low-income New York City resident family member or friend. Learn more about the requirements and fill out the application here.
NYDIS' Funeral or Burial Recommendations:  
House of worship and funeral home funerals should be suspended, and the dead should be buried or interred during a graveside service of no more than 10 people who strictly adhere to social distancing protocols. Individuals traveling to the burial should only travel with members of their own household – if anyone is unwell, they must not attend. If desirable, the service may be live-streamed or recorded to share with others not able to attend. No Repast or Receptions should be held following burial or cremation.  
For Jews, no Shivas should be held in person. Shiva calls should be made virtually.  
NYC Human Resources Administration
NYS Department of Health
It can be overwhelming to plan a memorial service – but planning one during a pandemic is even more difficult when we can't be together in person.

This free, do-it-yourself guide, with customizable templates, will help you spend less time trying to figure it all out and more time honoring your loved ones.