Press Release: New App Equips Disaster Responders to Better Help Religious Americans
New York, October 27, 2020: In the midst of the COVID-19 pandemic and unprecedented hurricane and wildfire seasons, a new app will help first responders, disaster response professionals and voluntary organizations better serve America's diverse religious communities and build partnerships with religious leaders.
The Disasters & Religions App presents easily accessible religious literacy and competency information on 27 unique religions, from Baha'i to Zoroastrianism, including 12 Christian denominations.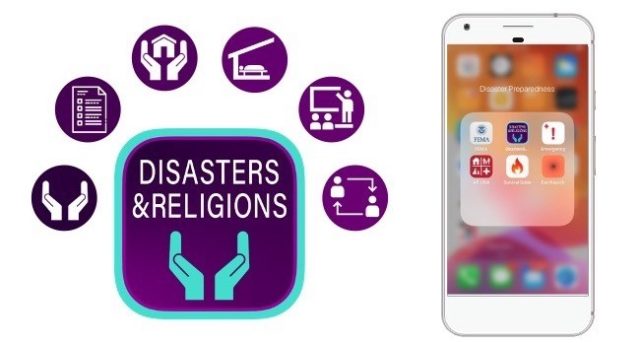 "Three quarters of U.S. residents are people of faith. Yet, as a country, we often struggle to understand the unique religious beliefs, practices and day-to-day needs of each person," said Peter B. Gudaitis, M.Div., Executive Director & CEO of New York Disaster Interfaith Services (NYDIS) and President of the National Disaster Interfaiths Network (NDIN). "In times of crisis, this app will equip responders with resources to feed, shelter, counsel, bury or provide emotional and spiritual care to the diversity of people of faith, among many other unmet needs, during disasters and public health emergencies that face our country."
The information in the app is adapted from resources created by NDIN, NYDIS and the USC (University of Southern California) Center for Religion and Civic Culture (CRCC), leaders in the field of religious literacy and competency. The partners have built partnerships between religious actors and government agencies, and NDIN and NYDIS have decades of experience in providing disaster human services. Tools developed by NDIN and USC CRCC are used by the U.S. Department of Homeland Security, the Federal Emergency Management Agency and the American Red Cross.
"This app is filling an important need. People turn to and trust their faith communities in times of trouble, and this app will improve the understanding between first responders and people of faith that can only be a help in disasters," said Dr. Lucy Jones, seismologist and founder of the Dr. Lucy Jones Center for Science and Society, which has the mission of creating more resilient communities through the understanding and application of scientific information.
On the app, users—including religious leaders, chaplains, first responders, government workers, disaster and public health emergency professionals, and volunteers—will be able to navigate information by either religion and see tips by topic areas.
"With a click of a button, you will discover a wealth of useful information at your fingertips that will help you more effectively respond to disasters and engage faith leaders," said
Dr. Jamie Aten, Founder & Executive Director of the Humanitarian Disaster Institute at Wheaton College after reviewing the app.
"One of my favorite features of the app is the topical search function, which provides an easy way to look at how to be a better ally and partner to people of different faiths before, during and after disasters," said Marcus T. Coleman Jr., an advisory board member of the Diversity in National Security Network. "Whether you're looking to expand your outreach and engagement to the faith community or just getting started, this app is a helpful tool to help anyone become more comfortable and intentional in creating meaningful and long-lasting partnerships with people of faith and faith-based organizations meeting the needs of disaster survivors."
Like crises before it, the COVID-19 pandemic has revealed the importance of government agencies partnering with faith organizations, which are on the frontlines of responding to crises in their communities. Most congregations stopped in-person worship while continuing to provide their communities with material, emotional and spiritual support. The designation of religious activities as "nonessential," however, opened the door for some faith groups to feel discriminated against by government officials, leading to prominent examples of congregations violating public health orders and endangering the health of their members.
"When government officials do outreach to religious groups, they often lack basic knowledge and understanding of these groups, which can be viewed as a lack of respect. This hampers the engagement process and creates mistrust," said Brie Loskota, the USC Center for Religion and Civic Culture's executive director. "We built these tools so that the government can act not just with good will but also with enhanced competency."
The app also includes easily shareable links to PDFs of additional resources, such as 26 tips sheets from NDIN and NYDIS geared to congregational leaders on critical issues in readiness, response and recovery, part of NDIN's "Be a Ready Congregation" campaign.
"As a local pastor, and friend to many other religious leaders of various faith traditions, I see this tool as invaluable in being able to establish and maintain critical relations with neighbors and partners in the work of recovery and building resiliency when disaster strikes," said the Very Rev. Michael Lynch, Vicar for Ecumenical and Interreligious Affairs of the Roman Catholic Diocese of Brooklyn.
Contact:
Peter B. Gudaitis, M.Div.
Executive Director & CEO, NYDIS
917-449-8605 or info@nydis.org
Brie Loskota
Executive Director, USC – CRCC
567-307-0207 or bloskota@usc.edu