Search our resources
In 2008 NYDIS partnered with NDIN to develop one central online resource library for this nation's disaster interfaiths. NYDIS posts all our resources to this common source.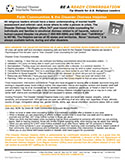 NDIN Tip Sheet: Faith Communities & the Disaster Distress Helpline
The Disaster Distress Helpline offers 24/7 year-round crisis counseling for individuals and families in emotional distress related to all hazards, natural or human-caused disaster via phone (1-800-985-5990) and SMS (text "TalkWithUs" to 66746).